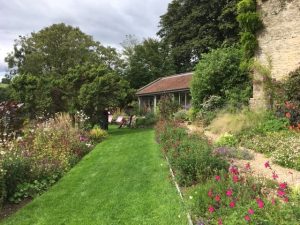 I was excited to join this workshop hosted by the well known plantswoman Derry Watkins, at her Special Plants Nursery near Bath.
Derry hosts her own workshops and so we were particularly delighted she agreed to hosting one for the WFGA.   I was looking forward to seeing her nursery, and the gardens, as well as learning some valuable tips.
We started on the biology of plants taking us through the science bit.  Focus on gathering as much plant meristem as possible in order for the plant to recreate itself.   Finding this at its most concentrated will make the best cutting, ie heel, nodes and buds.   We compared softwood, hard wood cuttings, timings etc.  Her Message – don't be scared to try propagating any time of year with any type of cutting.  Cuttings don't like it too soft.
We then proceeded through her recommended process, look for the best form of the plant, water well the day before and take your cuttings in the morning.  Store immediately in a plastic bag, and use quickly if you can, otherwise store in fridge.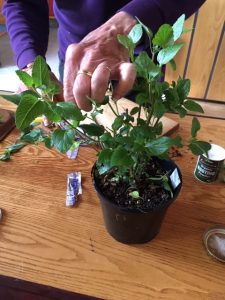 Preparation is key as I'm sure we have all been taught – make sure you have everything ready to focus on the task.  Clean pots, not too large, clean tools, a clear area to work and labels.  The compost – This was a secret recipe and you can buy it from Derry, it did include horticultural bark, some grit and some pure peat. (organically sourced).   Yes use hormone powder but not too excess.
Propagation relies on humidity to get things going, and she had plenty of propagating space, if not use plastic bags over the pots.  Monitor your plants, don't let them sit in strong sunlight.  And check if any roots have appeared after two weeks.  Then plant on and keep protected.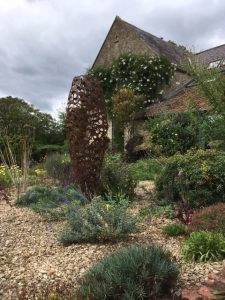 The afternoon was spent in the garden, walking around the different areas.  Then we were let loose with our own secateurs to take 3 cuttings of our choice.  I went for the Verbena Bampton, Salvia Nachtsvlinder and a sedum.
I learnt such a lot and hope we can return next year.
Vanessa
Chair