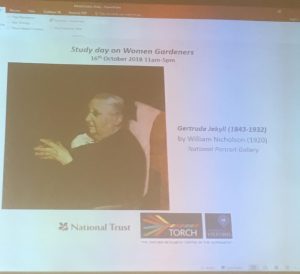 I was delighted to be invited to a study day, part of the National Trust's Women and Power programme for 2018 at St Peter's College Oxford. 'Women and Power' celebrates and marks the 100 years of the Women's suffrage movement. Together with the many challenges women faced entering the horticultural world at the start of the 20th century, Horticultural colleges were just emerging and opening up a career path for women.
The study day stemmed from two recent exhibitions at National Trust properties, maybe you were lucky enough to see them. Dr Catherine Horwood's Gardening Women at Sissinghurst and Dr Alice Strickland's The Triumph of Hope at Nymans.
Dr Horwood opened the proceedings with an outline of her exhibition and set the tone for the day. Her research involved delving into many horticultural and historical archives and reference libraries. Women wanted the vote and many marched across the country, some of them drawn from the new women only horticultural colleges. These colleges included Swanley, Studley and Bath. Gertrude Jekyll designed a banner for the women of Godalming to march with. Vita Sackville-West refers to her WW1 landgirls in her writings and quite possibly they were involved in the campaigns.
We then heard from many fascinating papers covering many lady gardeners and artists from mid-19thC to present day. It is hard for me to outline all in detail but here are some highlights from some of the speakers.
Dr Alice Strickland, Nymans Garden Historian; Three women gardeners who created and inspired the gardens at Nymans, owned by the Messel family.
Prof Clare Willsdon, University of Glasgow; spoke about Beatrice Whistler, visionary artist, garden designer, rose grower and inspiration of Jekyll.
Pippa Shirley, Head of Collections, Waddesdon Manor; Paper – Alice de Rothschild (1847-1922), a passionate and leading horticulturalist who extended and enhanced Waddesdon and Eythrope.
Dr Leonie Mhari & Elinor Scarth, recent graduates from Edinburgh University and College of Art: Paper – Three Women plant collectors and their methods from 1700-1975. The work of Mary Delany, Olive Pink and Anna Atkins contributed to botanical illustration relying on very distinct methods of documenting botany, from photography to embroidery. Over 3 centuries, their work contributed extensively to botanical illustration and capturing plant life for the future.
Claire de Carle MA, garden historian; Paper on Maud Grieve, plantswoman, herbalist and writer. Maud developed Whins Herb Farm and Training School in Chalfont St Peter. Training women and soldiers in herb growing and drying. During WW1 she grew herbs for the war effort. Founder member of the National Herb Growing Association.
Dr Deborah Reid, University of Edinburgh; Paper on two aspiring female gardeners, Annie Morison and Lina Barker who became the first two women at the Royal Botanic Garden in
Edinburgh but following prejudice and unfair treatment, went on to found the Edinburgh School of Gardening for Women in 1902., one of a kind in Scotland.
Florence Pinard-Nelson, History PhD candidate, Royal Holloway University of London; A paper on North London Collegiate School for Girls, a case study of educating urban school girls in garden related activities and encouraging women's interest in horticulture and botany.
If you are interested in reading the full programme, please ask the office for my contact details.
Vanessa Easlea
Chair