The NGS bursary scheme supports gardens that couldn't otherwise afford a WRAGS
trainee. We talk to one trainee about her experience in and NGS supported garden
For the 5th year running, the WFGA has been fortunate to receive a bursary from the National Garden Scheme (NGS) that enable us to support a WRAGS trainee in a garden that would otherwise not be able to afford to take one on.
Following the successful completion of their training, we report back to the NGS with feedback from the Head Gardener or Garden Owner on the aspects of horticulture covered by the trainee.
The trainee also writes from their perspective. From our recent round of successful WRAGS trainees in an NGS garden, we caught up with, Josie Lane, who worked at Phoenix Farm, Hammersmith Community Gardens in London. When I started the WRAGS programme I knew very little about vegetable gardening, having mainly herbaceous garden experience. Whilst undergoing my WRAGS training, I studied for and passed by RHS II at Capel Manor. Studying and working at Phoenix Farm's has been an incredible way to embed my theoretical learning. The Head Gardener and Farm Manager, Michelle Sinden and the community gardeners, were incredibly generous with their gardening and plant knowledge. I learnt propagation at college and at the Farm I had lots of chances to sow seeds, take cuttings, divide plants and even graft apple trees. My horticultural confidence was boosted by growing from seed and growing tender crops, such as chillies and peppers in the greenhouse.
I've found that a large garden such as Phoenix Farm, can have very varied microclimates and soil types from exposed areas, wind tunnels and soils that vary from clay to shale and silt mix. I further expanded my horticultural knowledge on trips to nurseries and working on a local rain and SUDS garden (Sustainable Urban Drainage System).  The SUDS projects require plants that are highly adaptable, tolerating low fertility soil, rain deluge and drying out.
Throughout my training at the Farm, I worked with volunteers, which I really enjoyed. I've benefited hugely from the enthusiasm of the many experienced gardeners coming to Phoenix Farm, who share their knowledge and gardening tips, from local volunteers, allotment groups, volunteers from companies and schoolteachers! Local volunteers share their experiences of eating and cooking the fruit and vegetable from the highly productive garden. I learnt that quinces are enjoyed as a fresh raw fruit in Syria and grape vine leaves are used as a 'green version of aluminium foil' in Morocco to retain moisture and flavour. A highlight of my year at Phoenix Farm, was achieving Gold and Outstanding in London in Bloom 2021 and swinning a first prize pumpkin in a local autumn harvest competition.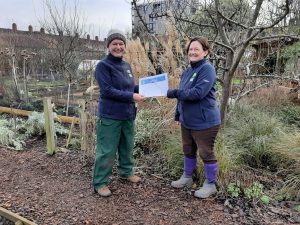 Josie receiving her WRAGS certificate
I've been fortunate to continue working at Phoenix Farm, whilst developing my own garden maintenance business. Ultimately, my aim is to work in a large public garden with both herbaceous and vegetable growing areas, which would make full use of the valuable skills and experience that I gained during my WRAG traineeship.
Josie Lane