article written and edited by Debbie Thomson
Gardens Helping Gardeners
A hands-on approach to horticultural training is helping adults of all ages find a new career in gardening.
Across the county of Essex, a band of trainee gardeners is pruning, sowing, mulching, weeding and mowing. The apprentices are quietly learning their trade in privately owned gardens thanks to a scheme which has been running for over 25 years. WRAGS was launched in 1993 to provide hands-on practical horticultural training in a carefully sourced garden, under the instruction of a garden owner or head gardener.
The gardens offering placements range from those specialising in a specific area of horticulture to large, all-encompassing estates and as such provide a range of practical challenges to the trainees, all keen to hone book-learnt skills in the great outdoors. Many of these gardens also open to the public as part of the National Garden Scheme and interestingly, last year, the National Garden Scheme granted a bursary to WRAGS, the aims of the two charities dovetailing nicely, both keen to support those looking for a career in the gardening sector and to encourage enthusiastic amateurs with affordable training.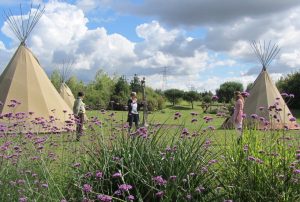 One such garden is Barnards Farm, West Horndon, Essex CM13 3LX where Sylvia and Bernard Holmes have been opening for the National Garden Scheme for over 20 years. The first trainee came to the garden in 2005. That was 15 years after the fields that originally surrounded the Farm and its half-acre garden had been ploughed up to provide Bernard and Sylvia with the blank canvas that has today been transformed into formal gardens and managed landscapes. Since then the Farm has welcomed a series of trainees, each of whom has had the opportunity to learn from this large, professionally managed garden delighted to have the chance to develop their skills in a creative and nurturing environment
Annette Caine was accepted as a trainee at Barnards Farm earlier this year. Her two days per week paid work, as stipulated by the WRAGS contract, see her working in the garden under the supervision of Head Gardener Alex Morton from whom she is learning the practical skills that many typical classroom-based gardening courses are unable to provide. The size of Barnards Farm Gardens offers horticultural experience on a grand scale with plenty of opportunities to learn and practice new skills. The garden is home to the National Collection of Malus (crab apples ) which provides Annette with the perfect training ground for learning the rules of pruning according to habit and size of tree. "This is the way to practice new techniques. Alex shows me the correct way to approach each type of tree then I get a chance to try on my own, then try again and by the time I'm at the end of a row I think I've just about got it!"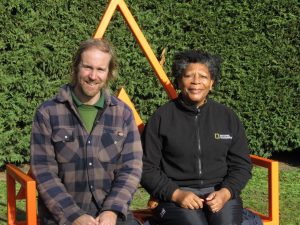 "It's a student's dream', continues Annette. "There is every type of garden for me to work on from herbaceous borders, vegetable garden, a parterre, rose garden, streams, ponds and woodland. I have always had a horticultural career in mind and this job is the first step to making it a reality."
"We have a tradition of employing trainees in the garden," says Alex "They arrive brimming with enthusiasm and interest and have always made a significant contribution to the maintenance and development of the gardens."
At the end of the year Annette is hoping to become a self-employed gardener and in addition use her skills to provide horticultural therapy to children living with disabilities or ill health, or who are disadvantaged or vulnerable.
Barnards Farm in West Horndon, Brentwood CM13 3LX is opening for the National Garden Scheme every Thursday until 29 August and on Sunday 30 June and Sunday 1 September, see www.barnardsfarm.eu for full details. Visit www.ngs.org.uk for information all gardens opening for the National Garden Scheme this year and you can find more about the WRAGS training scheme and gardening workshops at www.wfga.org.uk .
A longer version of this article first appeared in Essex Life magazine, May 2019