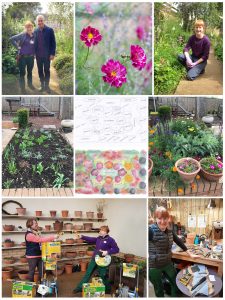 The WRAGS traineeship is a wonderful opportunity to create a relationship with a garden and a head gardener throughout an entire year, coming full circle and being able to look back and reflect on the beginnings. Just this last few weeks, planting out the cuttings I had taken in the beginning of my apprenticeship, releasing them into the world after having nurtured them along for months, feels like closure, but also a new beginning.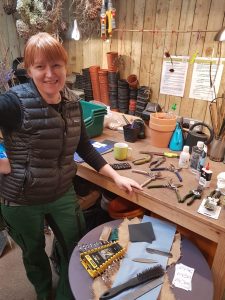 I have been honoured and privileged to have had so much support during my horticultural apprenticeship at Horatio's Garden Scotland. It has been an invaluable experience for me and has built my confidence and refined my skills greatly. I was grateful to receive the support of the Finnis-Scott Foundation to begin my placement. Horatio's Garden is about people as much as it is about plants, and from what I have read about Valerie Finnis,
the two were inextricably linked in her world as well. Reading about her life and passions, and viewing her wonderful photographs (having been a photographer myself), I feel like there is an invisible ball of twine connecting all these things together. Through the Finnis-Scott
Foundation's and the WFGA's support, along with Sallie's excellent mentorship I feel like I am now proudly a part of a legacy of hardworking professional plantswomen.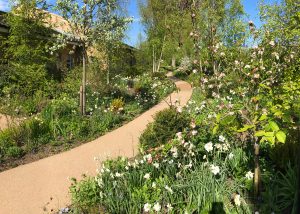 Horatio's Garden is a unique and layered garden experience, being a therapeutic garden for the National Spinal Unit, which was designed by one of the UK's top garden designers. Seeing the garden stripped down to it's bones in winter, and fleshed back out as spring turns to summer has been magical. The astounding detail in James Alexander-Sinclair's design is never apparent all at once. It is a book that can only be read in a year, day by day, leaf by leaf. I have learned so much from just observing the seasons change, as each plants role becomes clear and they take centre stage for their brief time.
I now know that there is nowhere as cozy and creative as a greenhouse during a downpour. Finding a pace with the weather, the seasons and the garden itself has been a joy and a satisfying challenge. Sallie has taught me the pleasure of slow gardening, taking time to do things right and fully. We have experimented with every leaf and stem and seed at hand, and I'm humbled by what we have grown and achieved this year.
None of this would have been possible without Annie Stewart's (WFGA Regional Manager) tenacity in finding me a placement, and Olivia Chapple's innovation and generosity in taking on a WRAGS trainee at Horatio's Garden Scotland, for which I am very thankful. I hope that relationship will continue to be fruitful and that many other aspiring gardeners have a chance to sharpen their skills in such vibrant and crucial gardens.
Horatio's Garden grew out of compassion for others, a sense of community and of a families love of a lost child. It is about nurturing something that is also nurturing others. Each plant we tend brings others joy, or reflection, or food or familiarity. Picking strawberries with staff, cutting flowers for therapy activities, or just talking with patients and volunteers about favourite plants or the wonder of watching them grow, are some of many small moments in the shared life of Horatio's Garden. It is about quiet giving, not asking in return, the generosity of love and the abundance that grows from that gift. As in the garden and in life.
My heartfelt thanks to everyone at the WFGA, The Finnis-Scott Foundation and at Horatio's, especially Sallie, for the work that they have done to support me to more fully engage in my career as a horticulturalist. I hope to one day be able to pass on some of the knowledge and support I have had, and to continue to inspire others.
Chelsea Lowe, July 2020